Most requested answers
Latest Additions
goalunited Answers
Let's start with your question
Search by answering questions
To find an answer, select a parent category and then child categories until the answer appears below. In case you cannot find the answer you need on your own, you'll get a chance to contact us at the end.
I have a question about…
Search by keyword
You can easily find your answer by typing any keyword you are searching for. An example: You want to know how to negotiate with a sponsor? Just type sponsor and see what answers relate to this keyword.
Search by sitemap
Do you prefer searching via a normal sitemap as you know from your favourite websites? No problem at all, just use the Answers sitemap-navigation to find your answer.
Half time directions
It is sometimes hard to estimate how a match will go, without knowing the formation and settings of cour opponent. And of course, there is always a lot of luck involved as well.
There is only one way to effect the course of a match after it started, and that is by playing a half-time direction trading card. Those cards will change your "tactic" in the second half of the match. This can be the perfect way to turn around a losing match.
The following half time cards are available:
| | |
| --- | --- |
| Take it slow | Team effort is reduced by 50% |
| Encourage (Common) | Team effort is raised by 25% |
| Encourage (Uncommon) | Team effort is raised by 50% |
| Full attack | Team plays more offensive, more chances, high risk of counter attacks |
| Full defense | Team plays more defensive, fewer chances for both teams |
| Play for free kicks | Teams tries to get free kicks, yellow cards for dives |
| Get penalties | Teams tries to get penalties, high risk for yellow cards |
Half time directions can be played in any match type. You can save a card at the time you set the formation, or you can place it right into the live ticker up until 50 minutes after kick-off. (And of course you can change or remove the card added at any time until 50 minutes after kick-off.)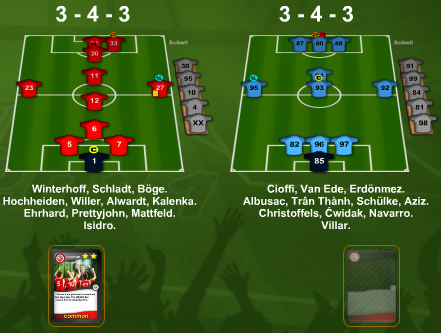 ---