Most requested answers
Latest Additions
goalunited Answers
Let's start with your question
Search by answering questions
To find an answer, select a parent category and then child categories until the answer appears below. In case you cannot find the answer you need on your own, you'll get a chance to contact us at the end.
I have a question about…
Search by keyword
You can easily find your answer by typing any keyword you are searching for. An example: You want to know how to negotiate with a sponsor? Just type sponsor and see what answers relate to this keyword.
Search by sitemap
Do you prefer searching via a normal sitemap as you know from your favourite websites? No problem at all, just use the Answers sitemap-navigation to find your answer.
How do I get more money?
It's never to early to think about your finances. Your players and staff members need to be paid, and your stadium and other buildings needs to be maintained. Over time those costs will go up, and you would probably like to buy new players as well, so you will have to make sure you create a steady source of income. Here are a few ways to make money:
The tutorial (one time income)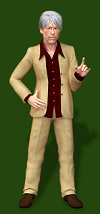 Every completed step in the tutorial gives you 50.000 Euros. As you also receive a lot of information and tips there and as you cannot start your manager career without completing it, it is the best thing to do when you start.
Click the manager icon on the right sidebar to open the tutorial screen. The manager will also open automatically with new tasks and hints
Sponsors (regular income)

One of the tutorial steps already made you sign a sponsor agreement. There is no easier way to make money than with a sponsor. You can sign a sponsor with a high base pay per week to create a guaranteed income, or sign one that pays a lot for winning matches. (Each sponsor gives base pay and also pays for points earned in the league.)
What sponsor is right for your team is up to you, but you should always have one, as it is wasted money otherwise.
Click here for more information about Sponsors.
The stadium (regular income)

The stadium of course not only costs maintenance, it also lets you earn a lot of money. Build more seats to let more spectators come to your stadium. You can set your ticket prices to maximize your income.
You receive ticket revenues for every home match. Revenue from home friendly matches is split between you and your opponent (50-50)
Gastronomy (regular income)

In your stadium complex you have the chance to build up your gastronomy, starting with a snack bar. In every home match you receive income from sales.
Player sales (one time income - long term)
Over time player sales are a great source of income, but it takes a while until you get to that point. Player advance through training and playing matches, and by that their value increases.

To make money through player sales you need young players with potential. Older players will not advance as much and because of that are not as suitable for trading. They might help you by winning matches though, so a good balance should be found.
You can either buy young players or promote players from your youth team. 
Merchandising (regular income)
Building up your merchandising department is an excellent way to generate regular income. Simply build a factory and a shop and start producing and selling memorabilia to your fans.

Production of memorabilia won't start if your club balance is in negative state.
---