Most requested answers
Latest Additions
goalunited Answers
Let's start with your question
Search by answering questions
To find an answer, select a parent category and then child categories until the answer appears below. In case you cannot find the answer you need on your own, you'll get a chance to contact us at the end.
I have a question about…
Search by keyword
You can easily find your answer by typing any keyword you are searching for. An example: You want to know how to negotiate with a sponsor? Just type sponsor and see what answers relate to this keyword.
Search by sitemap
Do you prefer searching via a normal sitemap as you know from your favourite websites? No problem at all, just use the Answers sitemap-navigation to find your answer.
Signing and replacing sponsors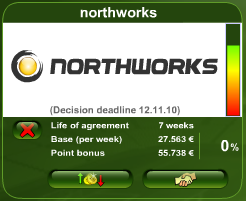 To sign a sponsor agreement simply click the button with the 'shaking hands'. The agreement is signed for the complete duration shown in the offer; if you want to replace an agreement prematurely, you have to pay a termination fee.
You can sign a follow-up sponsor agreement while your current agreement is still active. The follow-up agreement becomes active as soon as the current agreement expires.
To replace your current agreement with the follow-up agreement, simply click on the 'down arrow', but make sure you pay attention to the early termination fee.
The follow-up agreement can be replaced for free at any time.
Make sure you compare offers and negotiate good conditions before signing a new agreement.
Sponsor agreements always expire on Tuesday evenings. With league matches on Wednesdays it is important to keep that in mind, as you don't want to lose out on the earnings if your current sponsor expires.
---