Most requested answers
Latest Additions
goalunited Answers
Let's start with your question
Search by answering questions
To find an answer, select a parent category and then child categories until the answer appears below. In case you cannot find the answer you need on your own, you'll get a chance to contact us at the end.
I have a question about…
Search by keyword
You can easily find your answer by typing any keyword you are searching for. An example: You want to know how to negotiate with a sponsor? Just type sponsor and see what answers relate to this keyword.
Search by sitemap
Do you prefer searching via a normal sitemap as you know from your favourite websites? No problem at all, just use the Answers sitemap-navigation to find your answer.
Gastronomy
Real football fans need something to eat when they get to the stadium. This offers an excellent way to improve your income.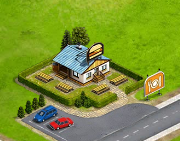 In every home match you play your fans spend money in your restaurants. The more you expand you gastronomy, the more fans will be able to be served, and the more money they will spend.
Always have an eye on the condition of your buildings. As the condition of a gastronomy building goes down, the capacity does the same, so don't forget to repair it regularly.
The higher you advance in your manager career, the more buildings become available!
Hint: There are several stadium upgrades for gastronomy which can furthermore boost your income:
Gastronomy plus

brings additional revenues. Up to 15.000 fans will spend up to 3.50€

King of Currywurst

guarantees 10% more fans in your gastronomy, and they will pay 1€ more.
---