Most requested answers
Latest Additions
goalunited Answers
Let's start with your question
Search by answering questions
To find an answer, select a parent category and then child categories until the answer appears below. In case you cannot find the answer you need on your own, you'll get a chance to contact us at the end.
I have a question about…
Search by keyword
You can easily find your answer by typing any keyword you are searching for. An example: You want to know how to negotiate with a sponsor? Just type sponsor and see what answers relate to this keyword.
Search by sitemap
Do you prefer searching via a normal sitemap as you know from your favourite websites? No problem at all, just use the Answers sitemap-navigation to find your answer.
Individualizing your club
There are several ways to make a club your own. (Most changes are done on your contact page)
Club and stadium names
When you first create your club you set the club name. Of course you can always change the name again. Go to your contact page "Club -> Contact page" and click on the pen symbol next to your club name to change it.
Changing your club name costs you 25.000 €.
On the same page you can also set individual names for your supporter's club (free) and your stadium (25.000 €).
Club logo and shirts
As a premium account holder you can upload an individual logo and shirt designs. Go to your contact page and open the tab "Logo and shirts"

The game supports jpg, gif and png files with a size up to
300x300 pixels.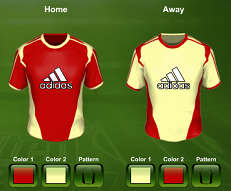 You can set individual designs and colours for home and away matches. 

Important: Please avoid using names and pictures that are copyright protected material.
---