Most requested answers
Latest Additions
goalunited Answers
Let's start with your question
Search by answering questions
To find an answer, select a parent category and then child categories until the answer appears below. In case you cannot find the answer you need on your own, you'll get a chance to contact us at the end.
I have a question about…
Search by keyword
You can easily find your answer by typing any keyword you are searching for. An example: You want to know how to negotiate with a sponsor? Just type sponsor and see what answers relate to this keyword.
Search by sitemap
Do you prefer searching via a normal sitemap as you know from your favourite websites? No problem at all, just use the Answers sitemap-navigation to find your answer.
The newspaper
Newspaper
Basic information

For every match there is a newspaper that gives the match details. Double-click on a previous match in the match overview - or a click on the magnifier-symbol next to it, to view the newspaper. You see the match result, the number of spectators, and goal scorers in the overview on the left.
Field statistics
Select a tab with one of the teams listed on it to view the field statistics for that team. You see the formation, by clicking on a player you see the player details. The colors and percentages in each sector show how good your team performed in comparison to your opponent.
The players receive an individual rating that you can see as a number. You get more details about the player's performance when you hover over that number. The larger the number, the better the performance of that player. The performance of players in different matches or different teams is comparable.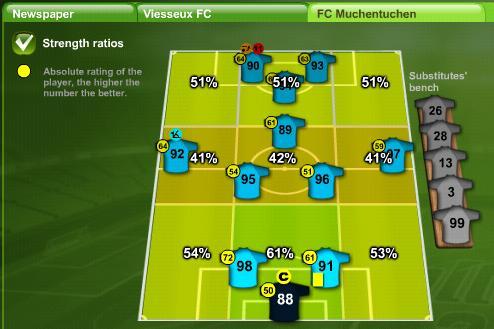 Game statistics

On the right side you can get more detailed statistics. You can click on a club logo to get to the club's contact page.
On the first page you get a timed match overview with information about the goal scorers, cards, injuries, substitutions and half time directions played.
On the second page you see statistics about the match per team: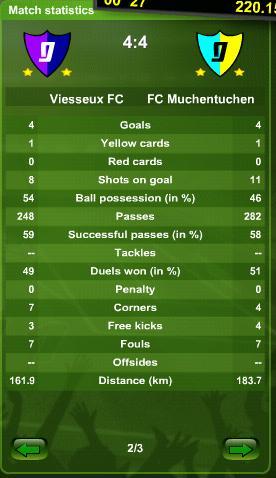 The numbers you see here give you a pretty good idea about the situation on the field.
On the third page you get information about the match settings and general team statistics;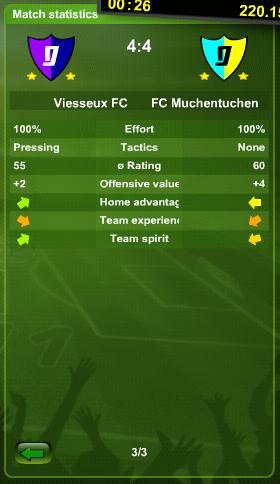 Offensive Value: The more strikers you put on the field, the higher the offensive value will be. An offensive tactic helps as well. The higher the value, the more chances you will have.
Home advantage: The bigger your stadium and the more seats are filled, the higher the advantage will be for the home team.
Team experience: The experience of your players raises their average strength and by that the performance significantly.  
Team spirit: The higher the team spirit, the better the team plays. Winning matches, hiring a mental coach and having popular players on the field will raise your team spirit.
---