Most requested answers
Latest Additions
goalunited Answers
Let's start with your question
Search by answering questions
To find an answer, select a parent category and then child categories until the answer appears below. In case you cannot find the answer you need on your own, you'll get a chance to contact us at the end.
I have a question about…
Search by keyword
You can easily find your answer by typing any keyword you are searching for. An example: You want to know how to negotiate with a sponsor? Just type sponsor and see what answers relate to this keyword.
Search by sitemap
Do you prefer searching via a normal sitemap as you know from your favourite websites? No problem at all, just use the Answers sitemap-navigation to find your answer.
Selling players
Sometimes your team has to say good-bye to one of the players, to bring in money instantly, to make room for another player, or simply because a player is not right for your team anymore.
A player is always sold to the bank, for a fixed price. The bank then places the player on the transfer market for auction. (It does not matter for how much the player is auctioned, the bank keeps or pays the difference to the price it paid you!)
To sell a player, go to your player overview, select the player, then hit the sell player button.
Before the sale is final, you will be given information about the money you will receive.
Penalties:
Careful. there might be high penalties when you sell a player that is not ready.
This can be youth players that have not been in your team long enough.
A player can also only be sold without a penalty during the last 4 weeks of his contract.
During the first 4 weeks of the contract - A fee of 50% of the market value is charged
Between the first 4 weeks and the last 4 weeks of the contract. - A fee of 25% is charged
During the last 4 weeks of his contract (or after its expiration). - No fee is charged
Players that have received the long term commitment receive a 50% penalty up until 4 weeks before the contract ends.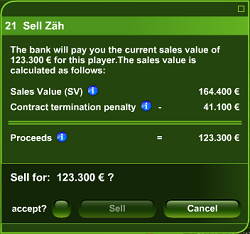 Once you confirm the sale, it cannot be undone, so make sure that you really want to sell him.
Note: You can sell maximum of 25 players within 7 days.
---